UC Berkeley is hosting the 3rd annual Serpent User's Group Meeting! The dates are November 6-8, 2013.
ACCOMMODATIONS:
There will be block of rooms available at a discount rate at Hotel Shattuck Plaza (NOW AVAILABLE). Information below.
CUTOFF DAY FOR DISCOUNTED RATE: October 16.
Group block name: Serpent User's Group Meeting
Rate: Deluxe King $155; Deluxe Double Double $165; both, single and double rate
Direct line: 510-845-7300; toll free 866-466-9199
Group Date – Tuesday, November 5, 2013, Wednesday, November 6, 2013, and Thursday, November 7, 2013
Group Code (in hotel system) – 1311SERPEN
Online Link: http://booking.ihotelier.com/istay/istay.jsp?groupID=1109907&hotelID=17233
There are also more affordable rooms available at the Downtown Berkeley YMCA, which is not a far walk from the Skydeck.
AGENDA: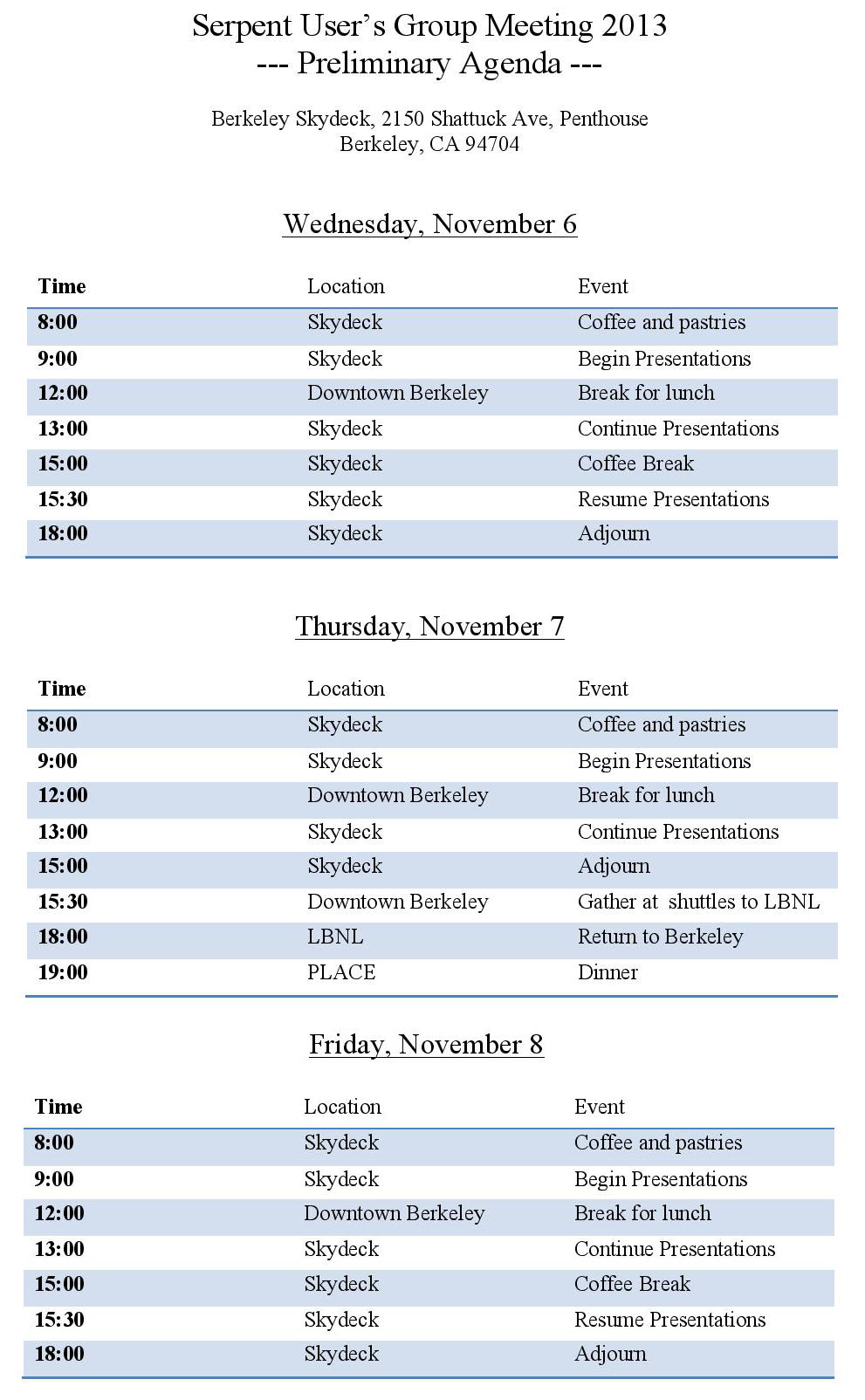 Film Screening & Discussion with the Academy Award-nominated filmmaker Robert Stone

Friday, April 12, 5:30 pm
Sibley Auditorium, Bechtel Engineering Center, UC Berkeley
Host: Prof. Jasmina Vujic

Panelists: Robert Stone, Michael Shellenberger, Prof. Joonhong Ahn and Prof. Per Peterson
Moderator: John Fowler, KTVU Channel 2 Science Editor
Read more: "Pandora's Promise" - Film Screening and Discussion
An one-week school represents an outstanding opportunity to learn about DSP and realtime modifications and implementations using digital MCA developed by Valentin Jordanov.
Please see the attached program.
Thursday, March 28, 2013, at 4:00 p.m.
112 Walker Building, The Pennsylvania State University

Dr. Jasmina Vujic
Professor of Nuclear Engineering at the University of California, Berkeley
The Nuclear Science and Security Consortium: Overview and Research Highlights
Dr. Vujic's bio is included.
Read more: "The Nuclear Science and Security Consortium: Overview and Research Highlights" by Prof. Jasmina...
Details

Parent Category: News
SEATTLE (Reuters) - Six underground storage tanks at the Hanford Nuclear Reservation along the Columbia River in Washington state were recently found to be leaking radioactive waste, but there is no immediate risk to human health, state and federal officials said on Friday.
The seeping waste adds to decades of soil contamination caused by leaking storage tanks at Hanford in the past and threatens to further taint groundwater below the site but poses no near-term danger of polluting the Columbia River, officials said. READ MORE
IEEE Meeting Announcement - Joint Meeting

Oakland/East Bay Section, Life Members Affinity Group
Power & Energy Society Chapter
Title: The Latest State of the Art in Nuclear Power
Speaker: Prof. Jasmina Vujic
Department of Nuclear Engineering
University of California, Berkeley
Date: Wednesday, March 20, 2013
Time: 6:00 PM to 8:00 PM
Doors open at 6:00 PM
Dinner is served at 6:30 PM
The talk begins at 7:00 PM
Place: Willow Tree Restaurant
6513 Regional St
Dublin, CA 94568
Cost: $15.00 per person, includes buffet dinner
RSVP: Reservations are required no later than Noon, Tuesday, March 19, at
http://ieee4life.org.
Read more: Prof. Jasmina Vujic: The Latest State of the Art in Nuclear Power